Your Old Cell Phone Can Save a Life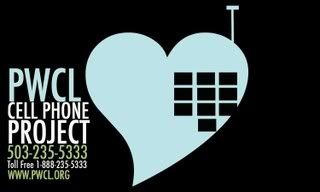 Do you have old cell phones lying around? Make a difference in your community!
PWCL collects cell phones and distributes them to survivors of domestic violence and sexual assault. Survivors are able to use these cell phones to call 911, allowing immediate help at the touch of a button.
PWCL also recycles used cell phones. All profits and proceeds are used to fund services for survivors accessing PWCL.
If you have a cell phone you would like to donate you can mail it to:
PWCL Cell Phone Project
P.O. Box 42610
Portland, OR 97242
or you can drop it off at any of the following locations:
HILLSBORO
First Tech Credit Union, 5860 NE Cornell Road (Near Orenco Station)
Whole Foods - Tanasbourne, 19440 NW Cornell Blvd.
PORTLAND
In Other Words, 8 NE Killingsworth
Portland Music, 123rd & Division
PSU, Women's Resource Center, 10th & Montgomery, basement of Montgomery Hall
Riverview Community Bank, 10401 NE Halsey Street
Southwest Community Center, 6820 SW 45th
Whole Foods - NW PDX, 1210 NW Couch St., [Customer Service Desk]
BEAVERTON
We're currently seeking cell phone donation drop-off sites in Beaverton. Please let us know if your business is interested!
If possible, include a wall charger and any working batteries with your donation. To protect your privacy, we recommend you remove all personal information from your phone before making your donation.
All cell phone donations are tax deductible. If you would like an acknowledgment of your donation for tax purposes, please include a piece of paper with your name and contact information.
If you have any questions about the cell phone program, you can call the Portland Women's Crisis Line Business Office at (503) 232-9751.